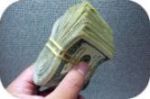 Customers can be like children.  They take comfort in knowing what to expect. They want to know that your pricing structure makes sense and is well thought out.
On the other hand, if your price quotes depend on how the wind blows that day, you may be scaring away good clients.
It's important to keep your pricing consistent when you're a freelancer. This rule applies to all fields including graphic art, web-design, copy writing, social media consultants and everything in between.
I know, it can difficult to create a structure when there are so many dang variables.  Just in art alone, deciding How to Price a Painting can be torture.  The cost depends on the medium, complexity of the subject matter, size, and knowledge and reputation of the artist.
In the field of web design, there are over a hundred more variables to consider.
But you have to come up with some semblance of price structure.  If your customer is confused, they'll take their business elsewhere.
The best way to devise a price structure is to begin with pencil and paper.  Write out all the possible expenses and time involved in a typical project.   Make a crude spreadsheet that helps you see, on paper, what your real profit will be.  (Often I do this exercise on an airplane – for some reason I can think best at 30,000 feet in the air.)
If you aren't sure what to charge, see what other professional people in your field are charging and use that as a benchmark.  (Don't look at what the part-timers are charging – they may not be charging enough and that' s why they aren't doing it full-time.)
Keep in mind, you aren't married to your prices.  You can fine tune them as time goes on. And you will.  Eventually, you'll have your pricing so wired that you'll be able to properly quote a new project quite easily.
Many years ago we hired a graphic designer to create a marketing piece.  He charged us a reasonable rate.  We were pleased with the work and hired him for more projects.  Then, suddenly, his prices jumped about 80%!  When we asked why, the answer wasn't clear.
His price structure had no real structure.  It was based on how busy he was that week.  This caused us to lose faith in him as a professional.  Eventually, we stopped working with him and found someone else that we could count on.
Are you confusing your customers with your pricing?  Or do you have a consistent structure, based on either time or a per project basis?
Clients, much like children, feel more secure when there's structure that they can count on. Keep this in mind the next time your clients ask for a price quote!
Maria xxoo