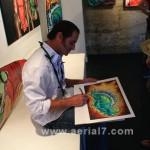 I received this question in an artist's forum and I wanted to share:
"I am located in a rural area and want to sell more art from my studio, in fact all of my sales last year came this way.   How can I increase attendance and response?" Cindy
There are countless things you can do to draw attention to your studio space to make people aware that it's there, and in being aware, they will be more receptive to attending your shows and events.
Here's just a few of my ideas to get people in there:
1 – Hold an annual, monthly, or quarterly (whatever you want) event where you invite locals to come in and paint with you, or where you give a "free" painting lecture.  (Or charge for it, if there's local demand for this service.)
2 – Invite local "meetup" groups to use your space to meet in once a month.  When you get people in there on other business, they'll see your artwork and become familiar with you and your space.
3 – Team up with a local charity that does work that you appreciate, and offer to allow them to hold their next mixer or meeting in your space.  You could sweeten the pot by making a print available for them to raffle.  (I know of one charity here in my town that holds once a month special events for their members, and they change the venue each time, often teaming up with a local artist studio.)
4 – Have a once-a-month "open house" – choose one day of the week every month (say the 1st Saturday of the month) where you invite the public in and they can view your work, and maybe even have their name entered in a drawing to win a print or something of value.
5 – Team up with another artist, who has a strong following, and offer to do a joint art show (her followers will come and be introduced to your work, and vice-versa).
6 – Ask the local Chamber of Commerce (or some other local group with a lot of connections) to help co-host an event at your studio (offer something to them of value for their participation), and ask that they notify THEIR contacts of the event.
7 – Team up with a company that would benefit from putting on a show with you.  This is where you can get very creative.  We did this with Aerial 7, who put on an art exhibit for Drew Brophy and Karlee Mackie.  They wanted to do it because art is important to them, and they had the artists paint a pair of headphones that were raffled off later.  The opening night turnout was amazing!  This sort of arrangement can be very powerful.
You will notice that many of my suggestions involve teaming up with others.   Working with another person or group for mutual benefit is more powerful than anything else; both parties can pool their resources, time and contact lists.
Let me know in the comments if you have any other suggestions, or if you've tried any of these and what the outcome was.
Thanks!  Maria
.