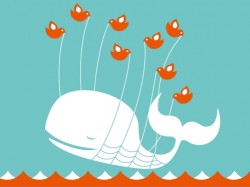 "The challenge with whales is that you have to swim out to them; otherwise they don't know you exist"
Years ago an advertising company contacted us to use Drew's art for a promotion for Togo's Eatery.  The company wanted to connect with Southern California Surfers.
What better guy than Drew, a surfing artist, to help them reach that goal?  They licensed Drew's art to wrap on surf vans and bought many of Drew's painted surfboards and hired surfers to drive the vans up and down the coast, giving out Togo's sandwiches and Drew Brophy surf art posters.  The campaign was a huge success for Togo's.
It was a whale of a deal for us, and it was indeed an introduction into working with companies that had a healthy advertising budget.
This year, my top business goal is to catch three whales.  In this article, I'm going to share with you the first step to creative deal-making with whales!
It's a fact that it takes the same amount of time to complete a whale of a project (that pays extremely well) as it does to take care of a low-paying minnow.
The challenge with whales is that you have to swim out to them; otherwise they don't know you exist.   Meanwhile, the minnows are keeping us near the shoreline in a holding pattern.
Whales are the big companies with healthy budgets, those who don't blink an eye at your proposal if it's something they need.  They appreciate your work and happily show up with a check.
And then there's the plentiful minnows.   Now, don't get me wrong here, I appreciate the minnows that have helped my business grow.  But it's more advantageous to place efforts into deals that will earn us bigger bucks.  And some minnows are more apt to haggle on price, ask for more than they pay for, and often are high-maintenance.
And the part that many of us small-business owners overlook is this:  The whales need us!  We have talents and gifts that will benefit them, if only they knew about it.
It's a fact that many whales end their fiscal year with money left over that should have been spent on things like sponsorships and programs.  What a tragedy!  Some of that unspent cash could have sponsored your painting tour or your special event for kids or your brilliant advertising idea.
I'm currently building my net to catch three whales this year, and one of them is going to benefit from sponsoring a Standup Paddle –n- Paint Tour we are taking across the country this summer.
The first step to making a deal with a whale is to find a whale that needs you.  Here's how:
Grab a pen and a piece of paper, pour a cup of tea and sit down and brainstorm with these questions –
"Who or what will benefit from my art?"  (i.e. if you paint horse portraits, companies that sell to horse owners would benefit from your art)
"Who will benefit from my persona and lifestyle"  (i.e. if you are an enthusiastic rock climber, skater, harpist, fill in the blank – what companies would benefit from that lifestyle)
"What company shares the same core values that I do?"  (ie. if you live for environmental causes, look for companies that do, too.)
"What company has similar goals as I do?"  (i.e. If your goal is to teach children how to dance, team up with a company who has the same goal.)
"What company is trying to reach a target market that I already have reached?"  (i.e. if you are well known for something, find a company that is trying to connect with others who admire that something that you're known for)
What you are looking for is someone who will benefit from:
Your art
You being featured in their ads
Your association with them
Your upcoming events, tours or shows
Once you come up with your list of entities, the next step is to brainstorm on what you can create with or for this company.
I'll be writing more articles that will give examples of deals to create and how to present to the company.
I hope this encourages you to chase after a few whales this year!  Please, share in the comments any questions or thoughts you have, or additional advice on this topic.
Here's to all of us catching the big fish we seek!
Maria
ART CREDIT: The popular "Fail Whale" image at the top of this post is illustrated by the very talented Yiying Lu.  You can see her website here:  http://www.yiyinglu.com/sc/illustration and also read an interview with her about the making of the famous Twitter Fail Whale on the Drawn blog.