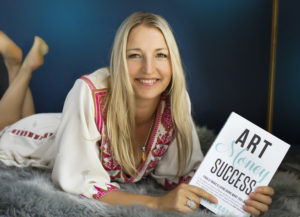 When I'm interviewed about the business of art, I'm always thrown one question that is so difficult to answer, and it is:  How do you price artwork?
The reason this question is so hard to answer is because there are thousands of variables you have to work with.  Size, medium, mastery of the artist, popularity of the artwork, and so much more.
But, the most important element to pricing art is this:  What market do you CHOOSE to sell your art in?  And that is the starting point for pricing your work.
In a recent interview with Antrese Wood of The Savvy Painter, we talk about this topic and others, such as:
How knowing what you want is the first, most important thing you need to do to be a professional, full-time artist (and how to figure it out, if you don't know)
The biggest mistake Drew and I made and how we nearly lost everything from it
How to sell your art, despite your resistance to it
How to position yourself to be an artist that sells higher priced paintings
Antrese is an excellent podcaster and interviewer.  Click below to listen in, as there are some great nuggets of wisdom we both share!
And please, share in the comments any thoughts you have on the info we share.  I love hearing your feedback.
Outline of This Episode
[1:50] I introduce my guest, Maria Brophy.
[3:30] Maria talks about how she started managing her husband.
[6:30] Knowing what you want.
[15:00] Steps toward working as a full-time artist.
[18:00] Lessons Maria and Drew learned from stepping out on their own.
[23:30] What would Richard Branson do?
[29:00] Knowing when to say no.
[31:00] Communicating your worth to friends and family.
[40:00] How to price your work.
[44:00] Positioning yourself as a high-value artist.
[49:00] How to sell your art without selling out.
[55:30] Habits of successful artists.