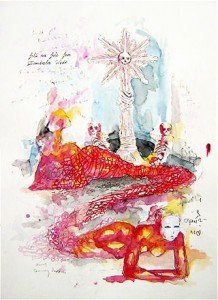 It's every artist's dream to have an admirer open their pocket-books and fund a business based on their art.
It rarely happens, and when it does, you must be aware of what you agree to…
Artist Danielle wrote me:  "There is a lady that is willing to invest a great (to me) amount of money to help me start my own brand of home products to take to Market in Atlanta.  Is starting my own line better than art licensing?"
"And can I do both licensing and create my own line?"
First, to answer the easy part of Danielle's question , "can I do both licensing and create my own line" – yes you can.  The two can work very well together.
Marine Artist Wyland has been doing it successfully for years – he sells prints and original paintings and sculptures and at the same time has licensed products on the marketplace.
Now for my lengthy answer to the first part of your question:
SHOULD I LICENSE MY ART TO MANUFACTURERS OR PRODUCE MY PRODUCTS MYSELF?
This is a question I hear often.  And to tip my hand a little bit here, anytime I run into an artist who tells me they are starting their own t-shirt line, I cringe.  Read on and you'll see why.
My answer to Danielle is based on my assumption that when you say "start my own line" you mean that you will be producing, manufacturing and selling your own product line to retailers.
I'm going to break down the answer into three options that I think you have:
Partnership of business based on your artwork
Start up of a business based on your artwork
Licensing your artwork to other businesses
Before you read my answers, please keep in mind I've been on both sides of the fence, and if I seem a little bias, it's because I am.  Read Our Biggest Mistake Ever as an Artist and you'll understand what I mean.
So keep in mind, the end decision that you make should be based on what you WANT, not what I think based on my own experiences.  This is just some food for thought:
PARTNERSHIP
If your partner (investor) plans to run the entire business and have you just create the art, then you've won the artist lottery!
My advice would be to have iron-clad contracts in place, ensuring that you retain ownership to the copyrights of all the artwork and a schedule of how you will be paid.  Get yourself an attorney for this.
Go into great detail with the partner and determine who is in charge of future investments of money needed.  Because trust me, the first few years of starting a manufacturing business more money will go out than will come in.  You have to be prepared for that.
HOWEVER, if the investor is just giving you money but wants you to run the operation, here are things to consider with STARTING UP A (MANUFACTURING) BUSINESS:
With your own business, you will be in charge of the running of the operation, not just the art.
FIRST you have to ask yourself, "Do I want to be a manufacturer?"
Because essentially, when you create a line of clothing or goods based on your art or a brand, you are going into the manufacturing business.
Your customers will be retailers, who buy from you and then resell the goods to the end consumer.
NEXT, you need to understand what being a manufacturer will mean to you as an artist.
Suddenly, you have a job that has you wearing a lot of hats, and creating art falls to the bottom somehow.
Some of your new job duties as manufacturer will be:
Salesman:  You are in charge of sales to retailers.  It can take years to build up a sturdy list of retailers that will order from you.
Shipping and Receiving:  Secure a warehouse and employees and ensure that daily shipments go out on time.
Accounts Receivable:  You will spend hours on the phone collecting receivables.
Risk Taker:  If your products don't sell, you lose everything, and maybe more.
Quality Control:  Designing, preparing and finding the best prices for your products will be crucial.  You fly to China or where-ever your products will be produced and make sure they are being made to your standards.  You will spend countless hours on this one.
Creativity:  Your artwork will become second fiddle, unless you have enough capital to hire people to do all of the above for you.
WAIT A MINUTE!  WHAT IF THIS IS WHAT AN ARTIST REALLY WANTS?
Okay, I realize I put a very negative spin on this, but I've been through it.  When Drew and I sold to retailers before licensing, it was the most difficult years of our business lives together.
However, don't let me crush your dream.  There are some artists who actually make manufacturing their own products work.  Like Shepard Fairey and Mossimo, however, I don't know how hands-on they are or if they have a slew of employees that do the mundane for them.
The artists that I know personally who attempted and failed, failed for one reason:
Artists want to paint, create and make things.  When it was required to do everything BUT create, they threw in the towel. It wasn't who they were.
That being said, it is absolutely possiblE that you will have success, if this is what you want to do.   And if you do, I would recommend that you make up a detailed, formal business plan, and in doing so, you will be able to better make a decision for yourself.
OR, you can instead look to LICENSING YOUR ART
Licensing is a dream because, unlike manufacturing it yourself, your products are being produced by, sold by and paid for by someone else.
This means that if the product doesn't sell, you lose nothing but time.  There is very little risk involved on your part.
If you hook up with a solid company, you benefit from their long list of retailers who already buy from them.  Some of our licensees have 2,000 retailers they sell to, and they just plug our products into their sales channels.  It would take us twenty years to get that many retailers to buy from us directly!
Typically you get an advance of royalties up front, so if the product bombs, you still got paid something.
If the sales of your products are successful, the licensee will renew and you can reap the benefits year after year.
The best part in my opinion is that there's no money OUT of your pocket (it goes IN), it's without risk and without having to sell retailers on your ideas.
I'm not saying that licensing is easy, because it's a lot work, too.  You have to create the artwork, sell the ideas to the licensee, and then handle all the contracts and everything that comes after.
But licensing allows artists to do what they do best:  create art.
Let someone else do the dirty work of sales and manufacturing.
In the end, do what feels good to you.  Always know what you're getting yourself into.
And let me know if you have any other questions on this topic – ask in the comments below.
Here's to our success!  Maria xxoo
*Image Credit:  Art by Hazel Dooney
.


PS:  To gain an understanding of Art Licensing Contracts, what to charge, how to protect yourself in a deal, and so much more:  Check out my e-Book, co-written with artist Tara Reed, called How to Understand Art Licensing Contracts.
This eBook will save you years of experience, time & money.  It will prevent you from getting into bad deals and show you what's reasonable to ask for.  You'll feel more confident going into each deal with this reference by your side.  It's truly a must-have reference for all artists who are licensing their art!