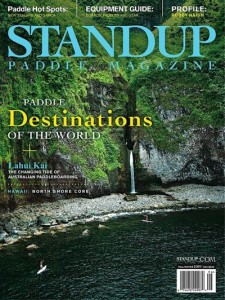 I have a tendency to play it far safer than I should.  But I'm working on this weakness…
I'm careful not to use foul language or to write about my fabulous sex life.  I strive to maintain a professional image and at the same time I yearn to interject some real personality into my posts.
But it's a walk on a tight wire, and I've got two left feet.
My first magazine article has been published in the new issue of Stand Up Paddle Magazine.  Even though writing for magazines was never a dream or even an interest of mine, when the opportunity came up to write it I excitedly said "sure!"
At the time this came up, my creative floodgates were free-flowing.  I had just returned all blissed-out from a writer's meditation retreat and ideas and words poured out of me like a freaky, broken spigot.  It was beautiful and exhilarating and frenzied all at the same time.
My husband set it up with the editor of the magazine, because he wanted to share our experience of Paddleboarding in New Zealand and Samoa.  He and I collaborated on the story, but since I'm the writer in the family, it was my job to write it.  And that's where the difficulty began.
All of a sudden I had guidelines to follow.  The article had to demonstrate the ease of paddleboarding abroad, the family aspect to the sport and the exciting lifestyle.  It had to appeal to the readership of the magazine.  The writing had to appeal to my significant other.
Seems easy enough, except…it had to be good.
Normally I don't have to write for anyone other than my own business, and for you, my dear readers.  When I write for you, the only restrictions I have are my own self-imposed ones.  And if you don't like my writing, well, you haven't told me.  It's not like WordPress is going to shut down my blog if they don't like my content.
Writing for a magazine made me realize just how hard it is to write when you are trying to please an editor.  It doesn't flow.  The words get stuck somewhere between your heart and your throat and don't seem to travel to your fingertips.
I caught myself being overly careful to write safe stuff that's guaranteed to not be rejected.  BORING!  Playing it safe killed my creativity.  I was holding back on so much inner emotion and reality that I felt constipated!
I gained a whole new respect for all of the artists I know out there, especially my artist husband, Drew.  He's been earning a living by painting for different clients for years.  Now I get how sometimes he feels so frustrated.  You want people to love your work. And they might not.  It's stifling trying to please others with your art.
The first draft of my short article took about two hours to choke out.  I read it to Drew.  He didn't like it, and wasn't shy about telling me.
"Well, fine then.  I'll just spend all day re-writing it!"  I said snottily.  Frustrated and confused, I started over.  I couldn't understand why, just days before, I could have easily squeezed out a novel, no problem.  Now I had trouble putting down a coherent word about my own vacation story!
Eventually, through sheer force, I finished my tenth re-write, got Drew's thumbs-up and submitted it.  I wasn't in love with it.  I wasn't even sure that I liked it.  But at some point I had to consider it done, because I couldn't spend another minute writing it.
The feelings of inadequacy shrouded me like a smelly blanket.  I said all those things that your monkey brain tells you when you question your abilities, like "you can't write" "the editor's going to hate it" "who the hell do you think you are?"  "You suck. Go back to selling insurance!"
But I have this rule for myself that says that I'm only allowed to feel bad about myself for about ten minutes. That's it.  Then I force myself to shake off those negative feelings and move on.
A couple of months later the issue with my article came out.  I was a little scared that the editor would hate my article so much that he'd changed it.   Surprisingly, he didn't touch a word.
And as I read through it, I realized it wasn't so bad.  As a matter of fact, I think I like it.  And the best part is that he used many of the photos we took on that trip to New Zealand and Samoa.
I have to admit, reading my name in print in a beautiful, full color magazine was a thrill.  It gives my mother bragging rights and it makes me want to try writing for another magazine again.
Only next time, I'm not playing it f#&ing safe.
____________________________________________________________________________________________
Below is the article.  And the cute girl in the big photo?  She's someone I met in Samoa and I let her use my paddleboard.  Drew took the photo.  I wish I could remember her name…