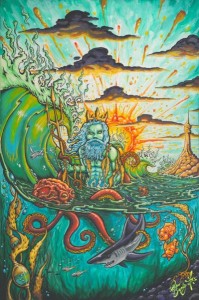 Drew is painting me a Buddha.  I've waited a year, but since I'm not a paying client, it always gets put to the side!
This week, he's finally drawn up the sketch, which means he's close to starting the painting.
The Buddha painting is symbolic to the peace that we both needed to cultivate, following up to a very stressful situation that we've just survived.
A long-time client had asked for artwork for a program they do each year.  They specifically requested a scene with Neptune, that mythical God of the Sea.
"We could have fun with that one", we thought!  Neptune is a powerful figure, and Drew loves painting ocean scenes.
Drew did the work painting his depiction of Neptune on canvas, and we were both pleased with the outcome.
But then the unthinkable occurred.
A bump in the road that rarely happens.  I mean, I can't remember the last time it did happen, or if it ever has happened – where a client came to us AFTER the work was done and said "I don't like it."
There are safeguards set in place to avoid this heart-break.
We always sit down with the client and Drew sketches out their ideas or what they want, right there in front of them (or over the phone).  Once he's confident of the concept that they want, he cleans up the sketch and then emails it to them for approval.
Nothing gets painted without prior approval.  That's how we avoid someone coming back and saying "I don't like it."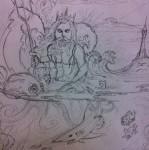 But this time, things were different.  Turns out the client we have worked with for many, many years, whom we have a great relationship with (still), was told by his boss, "Al" not to use the art, AFTER it was painted.
Al vetoed the artwork because he didn't like the Neptune.    So he asked us to remove  Neptune from the image.  We were extremely reluctant.
Drew and I both agonized over how we would keep the integrity of the artwork while at the same time, keeping a good relationship with a longtime client.
Relationships are everything to us.  We weighed the pros and cons.  We drank a bottle of wine over it.  We argued amongst ourselves.
Finally, we decided to do as they asked.  Drew pulled Neptune out.  Hours of playing in Photoshop and he somehow figured out how to remove the main focal point of the painting and still keep the composition intact.  It was actually amazing that he was able to pull it off.
Al still didn't like it.  Could we make the shark look friendlier, the octopus not so…ummm, something?
Four more hours and Drew changed those two things, too.
And still, Al didn't like it.  So we had to call it quits at that point.  It was devastating and exhausting and stressful.  They still paid for it because we put in the time.
But that roller coaster is something we never want to go through again, ever.
To give myself control over any situation that goes wrong, I always look at myself and ask "what could I have done to avoid this?"  and "What can I do to avoid this from happening in the future?"
And the answer is, sometimes you just can't please 'em all.  You have to let it go.   And you have to just chalk it all up to a learning experience.
Oh, and learn to feel okay about it.  Sometimes things just don't work out, and we don't understand why.  We just have to roll with it.  (And be sure to always get a non-refundable deposit up front.)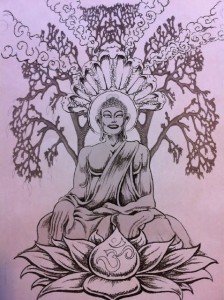 Last night Drew brought home my Buddha sketch.
"What do you think?"  He asked, looking for approval to move to the painting phase.
I mulled over the sketch, noticing that my Buddha has muscles (I liked that) and  the symbolism included in the drawing.
After three long minutes, I said "I love it!  But….
Drew braced himself for the criticism that usually follows the word "but";
I continued "What if Al doesn't like it?"  We both burst out laughing, and a new phrase has been coined.
We had weathered another storm.  The Buddha made us laugh.  And all is well with the world again.
Here's to living and learning and the awesome roller coaster of life —
Maria xxoo
**In the comments below, please share your experiences and solutions you've found when a client didn't like your work…
.
PS:  The painting of NEPTUNE is featured in Episode 3 of our new TV show THE PAINT SHOP WITH DREW BROPHY.  You can watch the entire episode now!
PPS:  NEPTUNE original painting sold but you can order your Giclee Print on Canvas in the Drew Brophy STORE!