RECOMMENDATIONS / RESOURCES TO HELP YOU:
INCREASE YOUR ART SALES $$ – 11 WEEK COACHING BY E-SERIES (Free):  A free e-coaching series that guides you to create your own art business structure step-by-step, called "Ten Principles of Success for Artists."  When you sign up, you'll receive an 11 week coaching course that teaches powerful art business strategies.
Every artist who participates in this series experiences a quantum leap in growth in their art business.  Sign up here.
"Just want you to know that I LOVE your honest emails!  The to-the-meat-of-it info. The stuff no one else really wants to share but we artists need to know to move forward with our goals.  Julie Schwartz, Artist and Writer"
"I have been receiving emails from you for the past 8 months, but,  I really haven't sat down and concentrated on your lessons until tonight; I finally did your worksheet for P1.  Amazing what happens when you/I/one actually does the hand written exercises.  Just wanted to say Thank You!  You're amazing.  You are the "one influential" person I WILL meet sometime this year!  Enjoy Life, Gar Benedick."
---
ART LICENSING MADE EASY E-SERIES (Free):  There are so many things you need to learn before licensing your art.   Such as, "is my art licensable" and "what do I charge" and "how do I find an agent."
If you want to learn how you can make money using the same images over and over again for different products, sign up for my FREE "Art Licensing Made Easy" coaching by email.  It is a ten week series called "ART LICENSING MADE EASY" which will teach you how to license your work, negotiate contracts and know what to charge for licensing your art.  SIGN UP HERE!
---
ART, MONEY, SUCCESS:  ART BUSINESS STRATEGIES YOU WEREN'T TAUGHT IN ART SCHOOL (BUT SHOULD HAVE BEEN)
THE BOOK:  ART, MONEY & SUCCESS.
Finally make a living doing what you love.   A complete and easy-to-follow system for the artist who wasn't born with a business mind.  Learn how to find buyers, get paid fairly, negotiate nicely, deal with copycats and sell more art.
Sign up for a FREE PEEK INSIDE (you'll be sent excerpts pulled right out of the book):  http://eepurl.com/b2IHHT
---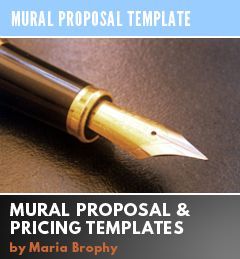 1 – Wall mural proposal template that you can use again and again, with the perfect language and look that will impress your client and get you paid
2 – Explanation of how to use the wall mural proposal
3 – A sample price sheet with a pricing structure (complete with our own mural pricing that you can use as your guide)
This package solves all of your worries about how much to charge and what should be included in your price!  I've been pricing and writing mural proposals for almost two decades.  I figured it out for you- all you have to do is plug in your info!  I put this package together to help artists ACTUALLY make money doing what they love; painting murals.
My promise to you; this proposal template and explanation will make your job easier as a mural artist.
In this package, I share the following insider secrets to mural painting:
How much money you should charge, and what I'm charging!
I give you all my pricing in a structure that lays out different prices for different sizes – it's in a word doc, so you can make changes to the price sheet for your own use
I explain what limits you should have in your proposal to keep your client from making too many changes on the sketches or from changing the scope of the work
Payment schedule to ensure that you get paid up front and on time!
Tips on how to close the deal
ORDER HERE:  Artist's Wall Mural Proposal Template and Price Sheet
---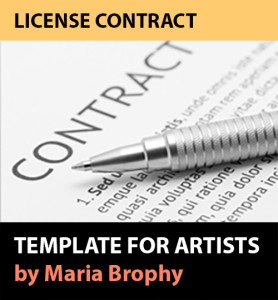 My ARTIST SHORT LICENSING AGREEMENT TEMPLATE – CONTRACT PACKAGE
Many artists spend countless hours trying to decipher complicated agreements from the back of art books when they want their own license agreement.
This package saves you from all that, because we've done most of the work for you!  (Provided in downloadable Word Docs so no re-typing necessary!)
Included is a Sample License Agreement Template that you can make changes to so you can use it again and again, for many different deals, a Separate PDF sheet explaining basics of what you need to know to get started, and a Template of an AMENDMENT to License Agreement, for future use should you make changes to the contract, add new artworks, or extend the life of the agreement, and a BONUS!  Template of a Deal Memo, a form you would use to make an offer or deal to a prospect.
To see if this template is perfect for you, go to this link for details:  License Template
---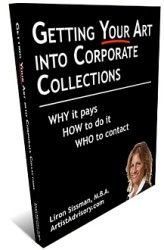 ***HOW TO GET YOUR ART INTO CORPORATE COLLECTIONS (HOSPITALS, CORPORATIONS, HOTELS, ETC.) Getting Your Art into Corporate Collections ebook by Liron Sissman is short and sweet, but it's greatest value is telling you what you only learn after years of being in the biz (and now it's all here in an ebook):  How they work, where to find them.  Liron even shares contact information for many of the art consultants and brokers, which is a treasure trove of info!  Check it out here:   http://bit.ly/OP40Cl
---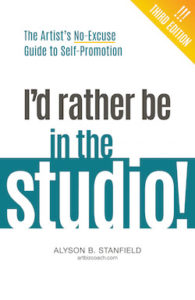 I'D RATHER BE IN THE STUDIO – The Artist's No Excuse Guide to Self Promotion by Alyson Stanfield
I first bought a copy of this book in 2009.  I found it to be a very practical guide for artists, one that helps you build a foundation for a long-term art career.  I think every artist should have a copy of this book; it's one that you would refer to again and again.
Some of the tools covered in the book:
(1) Introduce yourself as an artist so people want to know more;
(2) Nail your artist statement to discover the right words for all of your marketing messages;
(3) Expand your mailing list and use it to cultivate collectors;
(4) Create marketing materials that outshine the competition;
(5) Become a media magnet so buyers come to you
; (6) Take advantage of your Web site and blog to build a bigger audience; and much more.  I'd Rather Be in the Studio! provides easy-to-follow self-promotion practices that help you find your way at any point in your career.
---
Note: Some links on this site may be affiliate links, which means that should you purchase, I receive a commission.  Please know that I only post links to resources that I fully believe in; I have turned down many, many opportunities to be an affiliate for programs that I didn't feel were good enough to share with you, my reader.  So if a link is on my site, you can feel good knowing that it's a resource that I bought or tried myself and that I fully stand behind.  Thank you for supporting this blog!