FREE FORMS AND E-BOOK:  If you sign up for my e-mail newsletter, you'll receive my LIVING THE DREAM e-Book for free.  In some newsletters I send out, you'll also be given sample forms for artists, including a sample Deal Memo for licensing, a sample Illustration Agreement and a sample Amendment form for a contract change.  SIGN UP and get your free stuff here!
Permission to Reprint Articles on This Site:  I love it when people share my content!  You may reprint any items from this blog in your own print or electronic newsletter.  But please include the following attribution at the beginning and make it clear that it's my article.  Please do not change the words without my permission:
"Reprinted from Maria Brophy.com, a blog that helps creative entrepreneurs design the career and lifestyle of their dreams.  Visit at http://www.MariaBrophy.com"
Books I've authored, creative projects and my recommended resources: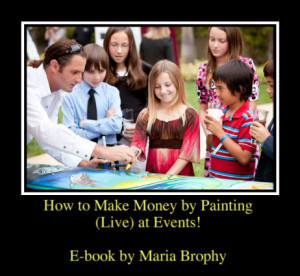 Ever wonder why so called "Art Business" books claim to give you tips on how to make money, but then they really don't?!
I've always wondered that, too.
It's frustrating when a book doesn't live up to it's promise.
Most artists just want one question answered, and it's this:
HOW DO I MAKE MONEY WITH MY ART?!
In this e-book titled HOW TO MAKE MONEY BY PAINTING (LIVE) AT EVENTS, I tell you the truth.
I give you the goods.  I actually arm you with inside information that enables you to go out and make money, RIGHT AWAY, by doing live painting events.
How much money can you make?  We get paid anywhere from $1,500 to $2,500 (plus extra for travel and the painting) for sending Drew to paint, live, at corporate events.  Yes, this is true.
For details on how to get in on this lucrative opportunity (that most artists don't even know about) go to our online store and check it out!

Artist Tara Reed and I teamed up to write this much-needed book for artists, which explains art licensing contracts.
Our goal is to give you a thorough introduction to art licensing contracts – not just the nuts and bolts of them but also the reasons behind them.
This eBook will save you years of experience, time & money.  It will prevent you from getting into bad deals and show you what's reasonable to ask for.  You'll feel more confident going into each deal with this reference by your side.
This 173 page "How to Understand Art Licensing Contracts" eBook is divided into 10 sections, including:
Common Contract Fears (and how to overcome them)
How to Negotiate for What you Want
Anatomy of an Art Licensing Contract
Putting Yourself in the Driver's Seat
When is it time to get your own contract?
How much should you ask for in terms of Royalties and Advances?
When you are done reading, you will breathe a sigh of relief and exclaim, "This is easier than I thought it was going to be!"
We don't want contract terms to confuse you any longer.  We want you to feel confident discussing the basics of a contract with a manufacturer.  We want you to know when you should enlist the help of an attorney and when you might be ok on your own.
For complete details on the eBook, click the following link (order won't be placed until you place it):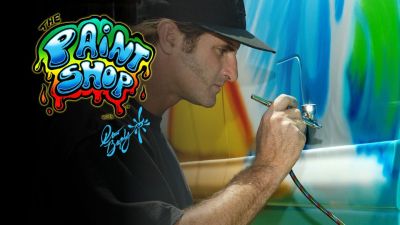 "THE PAINT SHOP With Drew Brophy" TV Show
This project has been my baby for over three years!  It's a positive, artistic reality show currently airing on TV channels in California & Arizona.
THE PAINT SHOP WITH DREW BROPHY gives viewers an unscripted, behind-the-scenes peek into the life of professional surf lifestyle artist Drew Brophy.   Go to www.ThePaintShop.TV to watch episodes online!
Executive Producers:  Maria Brophy, Donaldson Miele, Ryan Ray  Produced by:  Seven Films
Released April 2008, this DVD has taught thousands of people how to customize their gear with water-based paint pens!
Illustrated by Drew Brophy
Written by Maria Brophy and Drew Brophy
Published by Walter Foster.  Released April 2010.
A book for teenagers, kids, and people who act like 'em.  Drew shows how to draw some of his characters and hand-lettering.  A section in the back gives step-by-step instructions on how to paint your surfboard and skateboard.
Book reviewed by OC Family Magazine April 2010, SC Times Newspaper May 2010, ESM Magazine May 2010, Juxtapoz Magazine June 2010
PRODUCTS I LOVE (And am Affiliate for)
All of  my affiliate programs, 100% of them, are those that I first purchased and liked so much that I'm passing onto you.  Here's a list: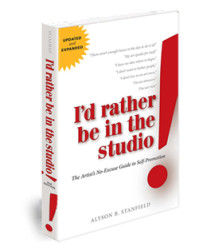 I'D RATHER BE IN THE STUDIO Artist's guide book written by Alyson Stanfield, the Art Biz Coach.
I first read this book in 2009.  Alyson Stanfield is one of the art business coaches that I often refer artists to when I feel that they need help from someone who knows the fine art world inside and out!
This book will help a fine artist with many of the actions required in the fine art world, including how to write artists statements, how to get into galleries, how to develop your mailing list, how to organize your art and branding basics that every artist should know!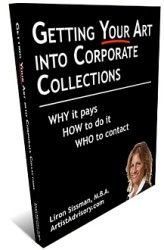 ***HOW TO GET YOUR ART INTO CORPORATE COLLECTIONS (HOSPITALS, CORPORATIONS, HOTELS, ETC.)
Getting Your Art into Corporate Collections ebook by Liron Sissman is short and sweet, but it's greatest value is telling you what you only learn after years of being in the biz (and now it's all here in an ebook):  How they work, where to find them.  Liron even shares contact information for many of the art consultants and brokers, which is a treasure trove of info!  Check it out here:   http://bit.ly/OP40Cl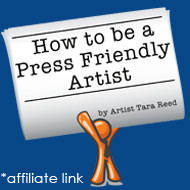 Do you ever wonder why some entrepreneurs, artists and athletes get all the press?  I'm here to tell you, it's not because they are the best at what they do (although that certainly helps) – it's because they know how to get the media to write about them.
I've been using Press Release techniques for years, and that's why Drew Brophy is featured in over a dozen magazines a year, not to mention numerous newspapers and tv shows.
This eBook by Tara Reed is without a doubt the best instruction I have found anywhere on how to write, publish and distribute press releases.
And though Tara titled her book for artists, this eBook is great for any profession, including athletes, small business owners and entrepreneurs.
Get it here:  HOW TO BE A PRESS FRIENDLY ARTIST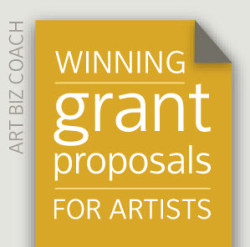 HOW TO WRITE WINNING GRANT PROPOSALS FOR ARTISTS:  This audio program is brought to you by the Art Biz Coach, Alyson Stanfield.
This Audio Seminar is for artists who:
Want to know when they'll be ready to apply for a grant or residency; and
Who have applied for grants previously and want to increase their chances of winning future grants.
The special guest for this seminar is Gigi Rosenberg, author of The Artist's Guide to Grant Writing.
Click here to get more details!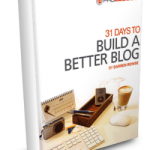 When I first started this blog, I bought this book and it was the best info out there – still is.  I highly recommend it!
I learned so much from it and have referred it to so many people that I finally decided to become an affiliate.
Here's what it is:  31 Days to Build a Better Blog is a downloadable e-book designed to help yourevitalize your blog by giving you 31 tasksthat will all help to turn it into the page view powerhouse you've always dreamed of.
Get your copy of 31 DAYS TO A BETTER BLOG if you plan on getting blogging!
Mags and Rags I've Written For: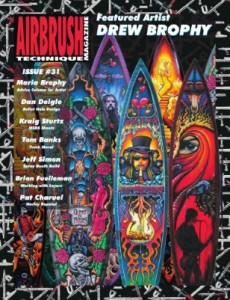 Airbrush Techniques Magazine Dec 2010 to Present (Ongoing feature)
Find Art Magazine Summer 2010
Stand Up Paddleboard Magazine Jan 2010
The Patch 2012 ongoing