The purpose of this blog is to "Help creative people to design the career and lifestyle of their dreams…"I started writing in response to the many e-mails I've received over the years asking how we got my surf lifestyle artist husband, Drew Brophy, to a great level of success.
People want to know how we found success in the business of art.  All of their questions also led me into Consulting and blogging on a regular basis.
What I found was this:  Many artists are struggling.  They dream of supporting their families with their art. They are told that art is not a viable career.  They suffer, trying to find a way to earn a living doing what they love.
On the other hand, many other artists are thriving; they are making a great living creating their art.
So what's the difference?  It all has to do with business.  The successful artists are running their art business like, well, a business.  And the starving artists are not.
My job is to help you first understand that you CAN learn a few things about business, and then, show you a few strategies that will grow your art business and earn you more money.
Sometimes, just a few small changes can make a big difference.
I'm here to show you what those changes are.  And if you implement them, you'll see results.
If you want to know more about me, read on:
I'm a world traveler, practicing yogi, a surfer and I dabble in producing tv shows and seminars.  I have a great husband and 2 kids, and we travel together, a lot, for months every year.  I stuff my hands into a lot of projects, and that's what keeps me happy!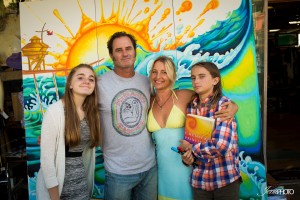 My Philosophy:  I believe that you can create the amazing life that you want.  Anyone can.  It just takes deciding what you want, then gradually making it happen, while chipping away at the things or people that hold you back from doing it.
I've decided that I want to travel the world with my family and run my business from just about anywhere.
My past life:  My first real job was with the Government doing top secret stuff like finding chemical defense in laboratories.  If I told you more, I'd have to kill you….
Then I worked a few years in the trucking business at the docks in Baltimore.  (Those were interesting times!)
In my early 20's I ventured across country from small-town Maryland to Southern California.  I spent the next 15 years in the student-insurance industry.  It paid well, but wasn't satisfying.  I had to leave the cubical world for a more fulfilling existence in the arts.
The Good Life:  I escaped the grind with my wits intact and together with my husband, created Son of the Sea, Inc.  This is the company in which we operate all of our business ventures.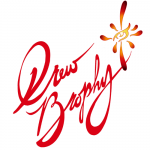 My "claim to fame" is being married to popular surf-lifestyle artist Drew Brophy.  During the last decade and a half, acting as agent and brand manager, I've successfully built up Drew's lifestyle art brand, bringing him the status of being the top licensed surf artist in history.
My expertise lies in licensing, marketing and promoting art, which are the topics I most like to blog about.
I've produced DIY videos and T.V. shows about art, including THE PAINT SHOP TV SHOW and the "Paint Pen Techniques with Drew Brophy" DVD.
Speaking:  I enjoy giving seminars and workshops on the business of art at various trade shows and art centers.  My goal is to help as many creative people as I can by sharing my experiences, screw ups and knowledge.
My Vision:  My vision for the future is that artists and creative types the world over will find success and happiness and that the term "starving artist" will become a silly thing of the past.
You can help me make this vision come true by finding success in the creative world for yourself, and by helping others.
Hope to talk to you soon – thanks for reading.
Maria
CONTACT INFORMATION:
Feel free to comment on any one of my blog posts when you have a question, comment, complaint.  If you're going to complain, go easy on me.  I sound tough, but I'm really a soft mushy cupcake inside!
Maria Brophy
P.O. Box 836
San Clemente, CA 92674 USA
E-Mail:  consulting at mariabrophy . com
PLEASE:  If you have a question for me about your art, your career, or anything that falls under consulting services, go to my consulting page for instructions first!
TO REACH ME BY PHONE:  If it's regarding consulting or a question I can answer on my Facebook page, please follow the instructions on my consulting page first.  Do not call me until we have an appointment set up – that way I can be of greater help to you.
If you are the MEDIA or PRESS or you want to HIRE ME as a speaker, please call me at 949-678-8133.
AFFILIATES:  You will notice that I recommend many different books, e-books, bloggers and courses.  A few of them I signed up to be an affiliate for – namely Artist Tara Reed and Owen Garratt's program.
I only recommend items that I first purchased myself and have first hand experience with, AND that I believe in.