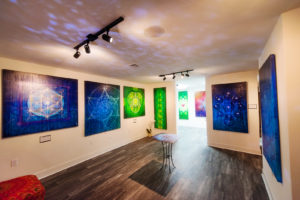 My dear artist friends, if you are selling original art pieces, I want to stress how important it is to collect the name and contact information of every single buyer of your original artwork.
Here's Why – You have to be prepared for the good that the future holds for you. 
About ten years ago, Drew's parents came to visit and we took them to a San Diego art museum to view the exhibit called Maxfield Parrish:  A Retrospective.
Walking through the exhibit sparked a future vision in my mind; I saw many similarities between Drew's art career and Maxfield Parrish's.  Parrish was an illustrator who also painted fine art.
We walked from room to room, following Parrish's career in chronological order.  The very first commissioned art piece that he did as a teenager was displayed in the first room; a crude illustration for a wall calendar.  It was so inspiring to be able to follow his path of success from the beginning to the end.
Walking this retrospective gave me a glimpse into our own future, as I could suddenly visualize Drew's work being honored in this way one day.
I turned to Drew's mom and said "One day a museum is going to do this with Drew's art."  She looked at me like I was crazy, but I knew in my heart it would happen one day.
And now it has come true!  The Myrtle Beach Art Museum is doing a Drew Brophy Retrospective from June through September, 2018.   We will exhibit Drew's works, beginning with his early 1980's drawing.  The retrospective will follow his art career all the way from his humble beginnings to the current day.
Putting together a retrospective exhibit is an enormous amount of work.  We chose some of the most iconic of Drew's paintings to be in it; Sunrise, Pure Joy and Sunset Sessions to name a few.
Since these paintings were all sold in the past ten years, we will have to locate the buyers and ask them to loan their artwork for the exhibit.
But, to be able to contact those people, we first have to know who they are!
Luckily, I have an Excel spreadsheet of most all of Drew's buyers going back to the late 1990's.
However, there are some missing names on that sheet.  Mostly, when a piece was sold through a gallery, or resold through the secondary market.  And this is what I wanted to talk about today.
It's important to always know WHO owns your original pieces.  Even if you are selling through a gallery, you should know who bought your art, in the event you later have a museum exhibit, or want to re-scan it for a that future coffee-table book you'll be printing.
Here's a few suggestions I have for keeping the vital information you'll need for your future exhibits or printed books:
1 – Create a spreadsheet that lists every original piece, the year created, the size and medium, and the buyer's name and address and phone number and email.
Make sure the columns are separated so you can easily sort your list either by medium, size or year created as needed.
OR, instead of a spreadsheet, use a software program designed for artists to keep track of their artwork.  There are many on the market to choose from.
2 – If you sell through a gallery, require your gallery to give you the contact information for all original collectors of your work.
In all of our gallery consignment agreements, we require that the gallery give us the contact information for buyers of original pieces.  Of course, many galleries do not want to do this.  They are afraid you'll steal their collectors.  But, if you are an artist who plans to have a lifetime of work shown in a museum one day, it's important to know who owns your work.
I have found that once I explain to a gallery why we require this information, and that we have been collecting it since 1995, and that it's part of our business model, they end up agreeing to give it to us.  (Although, you have to remind them because they often "forget.")
3.  Keep in touch with the buyers of your original work, through emails or yearly Christmas cards, or some other fashion.  That way if they move, you will get their new address.   Or, if they sell the piece to someone else, you can get that new owner's information.
If you haven't been collecting this data, don't stress.  Begin today and do it from this point forward.  You'll thank yourself later, ten years from now, when you need it!
Do you keep a list of all of your buyers?   Share in the comments, I would love to get your thought on this.
Thanks for reading,
Maria xxoo
Photo in this post of the Brophy Art Gallery & Studio taken by Evelina Pencheva