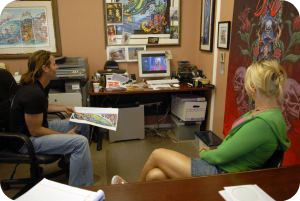 "When a person with money meets a person with experience, the person with the experience winds up with the money and the person with the money winds up with the experience"  Harvey MacKay
Recently we had a day of shooting for The Paint Shop.  As a producer, it's up to me to get releases signed by anyone who is filmed.  But I had so many things to coordinate that it became difficult for me to get it done.
One crewmember said "We could put the sound guy in charge of those things.  He's good at that.  If you paid him more, maybe he would…"
And it got me thinking.   I'd pay anyone on the team more money if they took the initiative to make my life easier.  I'd happily pay extra just to keep them, if they proved themselves indispensable.
At my last "real job" in the insurance industry, in a previous lifetime, I learned the value and the power of making my boss' life easier.  I would bring him coffee, enduring the cruel snickering from co-workers.  He was a busy man, and for him to have to get up from his desk to make coffee just didn't make sense to me.
And though I wasn't an attorney, I took over the horrible job of insurance contract administration.  No one else in the company would take it on.  After ten years of being in charge of that dreaded task, I became indispensable.
I was the only one in the company who knew how to do it.
So when I decided to leave the country for four months to travel around the world, the boss offered to hold my job open for me.  I had him over a barrel.  He knew that it would take more than four months to train a new person to do the work that I had mastered.
Once you are indispensable, raises and sabbaticals are easy to negotiate.
If you are self-employed, your clients will pay top dollar to keep working with you.
You may be asking yourself "how do I become indispensible?"  I'm glad you asked!
FIVE WAYS TO BE INDISPENSABLE AND EARN MORE PAY:
BE A PROBLEM SOLVER:  If you can't solve an issue for your boss or client, find someone who can.  Never say it can't be done, just find a way to get it done
MASTER SOMETHING:  Take on the projects that no one else wants to do, and master it
CARE ABOUT THE WORK:  Take pride in the end result:  wow them!
KEEP YOUR COMPLAINTS TO YOURSELF:  If things are difficult, don't whine to your client or boss.  Just get it done.  Complain to your dog or your girlfriend, but not the person who's writing your checks.  Which leads me to number 5:
MAKE THEIR LIVES EASY:  Make your boss' or your clients' life easier.  When you're on a project, they should know that they don't have to worry about a thing.  Don't make them follow up to make sure you got something done.  Just send them a text saying "don't worry, it's done!"  For most people, that's a priceless commodity.
Now that you are indispensible, raise your prices, ask for that promotion or take that sabbatical.   You've earned it!
Maria xxoo