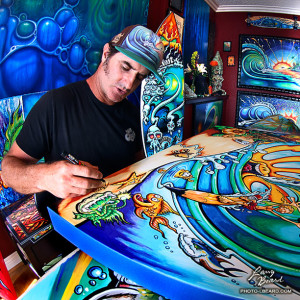 A reader sent me this email, asking for help:
.
"An old friend asked if they could use one of my painting images for his company's website and newsletters.  He's a nice guy, and I want to be generous.  But…. He's not offering payment.  He said he would credit my name "in print somewhere."  
I want to help, but, I don't want to give my art away for nothing.  How do I make both of us happy?"  
(*Ginny Bloom is an Alias to protect the identity of my reader!)
Friends asking for use of your artwork in exchange for, uh, nothing….
is a recurring problem, when you're an artist.  Some of your friends  don't realize that being an artist, while enjoyable, is a BUSINESS!
Their ignorance is not meant to be harmful, often they truly don't understand what's it like to be in  business for yourself.
(But just imagine calling a friend who's a chef and saying "Hey, I'd love a home cooked meal tonight.  Can you just whip me up something quick, since it's so easy for you?!")
Often we get requests from people wanting to use my artist husband, 
Drew Brophy's
 art (for free).
At times, we are willing to trade use of his art in return for TRUE PROMOTIONAL VALUE (see definition below), with people that we really like or actual charities that we care about.
Since most people don't know, I often have to spell out what they specifically need to do to give us TRUE PROMOTIONAL VALUE in exchange for the art.
Usually, people are happy to oblige, once they know what we want.  After all, they can't paint it themselves!
But, this case is a little different, in that there's no work required up front, and you truly want to let them use it free of charge, but at the same time you want it to be a fair trade.
Here's what I suggest:
Exchange use of the artwork for TRUE promotional value.  And place limits on what they can use it for, and for how long, in writing.  (You should always specify limits, 100% of the time, with everyone, anyway.)
TRUE promo value has the following aspects:
The artist's name is clearly posted (and signature legible on the art itself)

The artist's copyright notice is clearly legible near or on the art (i.e. "Artwork above (c) Ginny Bloom")

There's a DIRECT LINK to the artist's website, in an easy to find place

There's a well written and visible message about the artist, on their website and newsletters.  (For example:  "Ginny Bloom is the artist of this beautiful art.  Please visit her website at www.GinnyBloom.com".)
Promotional Value IS NOT FOUND in this manner:
Mentioning your name in fine print (nobody reads fine print!)
Printing or displaying your art without your signature and copyright notice clearly legible
Not having a link to your website
Let me remind you of this:  If your friend is not an art marketing wizard, they probably do not know what TRUE PROMO VALUE looks like.   So it's your job to tell them.
The best way to make it clear is to put it in writing.  I've made it easy for you – you can use the letter below (change it to suit your needs):
——————————————————————————————————————
Dear John,

Thanks for the email and I'm flattered that you want to use my artwork for your newsletters and your webpage.

Yes, I'm happy to let you use the artwork at no charge for those two specific uses for 12 months;

all I ask for in return is the following:

1 – The artwork bear my signature and my legal copyright notice in a legible manner, like this:  "Artwork (c) GINNY BLOOM"

2 – That in your newsletters and your website, you include the following blurb in a prominent location near the art:  "The Artwork titled "BLOOMING CACTUS" shown above was created by GINNY BLOOM.   Help us thank her by visiting her website at  

http://GinnyBloom.com

 ."

If this will work for you, let me know and I"ll send you the artwork via email, and then send me a link to show me how you have displayed it on your site and in your newsletters.

Thank you!  Ginny
——————————————————————————————————————
.
Often, when we specify what we need from someone, we make it easier for them to please us, in return for us pleasing them.  In the end, everyone feels good about it!
Please, let me know in the comments if you have encountered this in your career, and if so, how did you handle it?
Maria
.