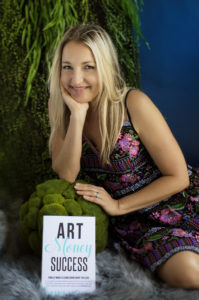 It's that time – the year is winding to a close and we should start thinking about what we want for our business in the new year.
For me, the first thing I think of is "How much money do I want to make this next year?"  And of course, it's always a number higher than what I made the current year.
Last year Drew and I were blessed with a significant increase in income, due to a few changes we made in our daily habits of action and in our habits of THINKING.  We were guided by a wonderful business coach who helped us.
Everything is first created in our mind, before it is created into reality.  I always knew this, because I read a lot of books on success, but it wasn't until I made "thinking" and "prosperity" a daily practice that I saw huge results.
So, before you make a plan as to what you will DO in the new year, first DECIDE what you WANT.    And then make it a daily practice to focus on it.
(In my book, ART, MONEY & SUCCESS, I have an entire chapter dedicated to financial goal setting.  The book makes for a great gift for any artist, including yourself!  Pick up a copy on Amazon, here.)
I'm going to share one simple prosperity habit that you can implement, starting today, that will help you to increase your income in 2018.
But be aware, for this to work, you have to be diligent and committed to following these instructions exactly as I lay them out.
Prosperity Goal Setting:
On the 1st day of each month, DECIDE how much money, specifically, you INTEND to make in sales that month.   (This gives you CLARITY on what you want.)
With that intention set, COMMIT to consistently working towards meeting that goal.
DILIGENTLY carry out the daily habit described below.
DECIDE ON YOUR INCOME GOAL on the first of each month:
What is your sales goal for December?  DECIDE what that will be, then write it down on a piece of paper.
Each morning, look at that goal that you wrote down, to remind yourself of what you have committed to.
Leave your written goal on your bedside table and look at it even before getting out of bed, and allow yourself to feel great about the goal and imagine how it will feel to reach it.
Next, before you begin your day and before you go online or social media, while your mind is still fresh and unfettered from other people's news, sit quietly with a pen and paper.
Ask  yourself "what are three actions I can take today that will help me earn $xxxx this month?"
Then be quiet and listen for answers and write them down on paper as they come to you.   Write it all down, even those that you consider crazy, silly or impossible.  All answers are valid.
Do not use an electronic device to write your ideas.  You must use pen and paper for it to work – this is because writing with your hand is an extension of your heart, and that's where a lot of your answers come from.
You actually have all the answers inside you – but we lose a lot of that when we are younger and taught that we don't know anything.  Now that we are older, we have to learn to trust ourselves again.  I can go deeper into this, another time.  But for now, practice trusting your inner knowing.  This exercise will get you in the habit of better accessing your natural born wisdom.
Some of the action ideas that may pop into your head could be:  call this person, email someone you met a long time ago, offer your services to a particular business, charge a higher price on something that you are about to quote on, begin a campaign, etc.
Now that you have a few actions written down on paper, plan your day around taking the action.
.The reason this works so well is this:  when we get clarity on WHAT we want (the $ amount) then we can ask the right questions.  When we ask the right questions, the best answers will come. With answers come action, and with action comes results!
Commit to implementing this practice for the next three months.  If you don't reach your goal exactly, but you make progress, it counts!   Keep doing that which works.
Do you write your financial goals down regularly?  And if so, have you seen results from it?  Please, share in the comments!
PS:  If you want to learn some of my top business strategies for creative entrepreneurs, please
SIGN UP for my newsletters
.  I save the best stuff for my "inner circle" subscribers!