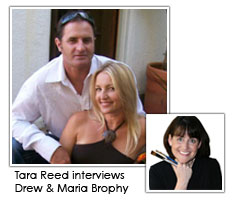 DON'T DESPAIR IF YOU MISSED OUR LIVE CALL!  THE FREE MP3 DOWNLOAD IS NOW AVAILABLE!
"What is the most important thing you've done to get license agreements?"
"How much should I charge someone who wants to print my art on their products?"
"Should I go to the License Show and exhibit?"
"How do you know if you've negotiated the best possible deal?"
YOU HAVE QUESTIONS – We've got a few answers! Listen in,  Free, to our "ASK CALL" with Artist Tara Reed where you'll hear candid answers to licensing lifestyle art questions.
Here's what a few of our 80+ live listeners said about our interview:
"I just had to write and say how much I enjoyed sitting back with a coffee in a comfy chair and listening to the Drew Brophy interview.  VERY inspirational for a bit of a newbie like me."  Dale
"Tara, I so enjoyed the "Ask Call" with Drew and Maria.  Thank you for making it possible for newbies and wanna-be's to get access to such interesting and inspiring artists and licensors.  I learned a lot and had plenty of tips to take away with me when it was finished."  Barbara
"I enjoyed it – they make a great team.  I got some ideas I hadn't thought of before.  The fact that he said it was 90% business and 10% art got to me!"  Robin
"…just got off the phone from the Ask Call and wanted to say thank you, Drew Maria & Tara!  Drew made a great point when asked how important it is to reach the end consumer and about the sense of connection with an artists' "story".  I LOVE that!  Thanks, guys!  Annie
@Artopiacreative tweeted:  "Was great listening to you both tonight! Helpful, yes, and also made me feel like surfing! Thanks for your wisdom."
@DustyYoungBlood tweeted:  "thanks for having Drew and Maria great show"
@Indigene1 tweeted:  "Wonderful Conference, can't wait for the next one! – Drew sounds so sweet."
Drew Brophy has been a professional artist for over 20 years, making his art available to many great companies to make things look cool, including tiki sculptures, skateboards, wakeboards, bikes, shoes, clothing lines, fabric designs, greeting cards, children's books and more.
I've been Drew's business partner for many years and I've helped him to grow his art licensing from one licensee to thirty companies that we now work with.
We've been through it all – from not knowing how much to charge, to being taken advantage of, to feeling the excitement of seeing the art on shelves in stores!  And, we've had a few surprise successes along the way.
Join us, with Artist Tara Reed, for a live (FREE) 60 minute teleseminar on Wednesday, January 19, 2011 (5:30 pm Pacific / 8:30 pm Eastern)
Get your free download here: http://askdrewbrophy.com
Please, if this was helpful to you, let me know in the comments below.  Also, feel free to ask me questions to clarify in the comments below.
Here's to all of our success!  Maria xxoo
*Affiliate Disclosure:  The links on this page are affiliate link, which means that if you click and buy something, I'll receive a commission.  I thank you for that!
PS:  Tara Reed has created numerous books and programs to help artists learn to grow their art licensing program.  Go to  Art Licensing Basics and check it out.
.


PS:  To gain an understanding of Art Licensing Contracts, what to charge, how to protect yourself in a deal, and so much more:  Check out my e-Book, co-written with artist Tara Reed, called How to Understand Art Licensing Contracts.
This eBook will save you years of experience, time & money.  It will prevent you from getting into bad deals and show you what's reasonable to ask for.  You'll feel more confident going into each deal with this reference by your side.  It's truly a must-have reference for all artists who are licensing their art!