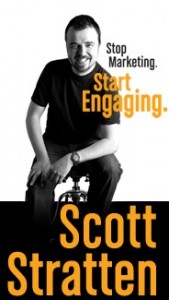 "People don't spread Meh" Scott Stratten, on why you shouldn't write crappy blog posts…
If you aren't sure what a blog is, you're reading one.  (Okay, only .5% of you would need that explanation, but just in case my mom's reading this…)
Blogging has opened up the world to more new ideas than ever before because it's easy, and unlike traditional publishing, no-one can tell you that you can't publish a blog.
My own blog grew organically like a wild mushroom in a cattle field except it smells a lot better and it doesn't make you trip.
My blogging got started because people were asking me a lot of questions about success in art.  At first I tried answering one-by-one with e-mails and in person at parties.  But I was missing out on the dancing, and it took too much time that way, so a-blogging-I-did-go.
Being the dedicated blogger that I am, I went to Las Vegas last week for the Blog World Expo (#BWE10 in Twitter Language).  I wanted to learn a few new tricks about blogging.
My dear readers, that trip set me back about $1,500.  Being the giver that I am, I'm going to share with you what I learned, for free.
The Five most important, game-changing things I learned at Blog World:
1.)  THERE'S A WHOLE NEW WORLD ONLINE – TAP INTO IT or MISS OUT
We live in a two-dimensional world:
REAL WORLD
ONLINE WORLD
The Online World has many less inhabitants, but it contains the most powerful ones that you find in the Real World.  Some people in the Real World have no idea that the Online World exists.
Here's the million dollar lesson that I learned at Blog World, which is worth the money I paid to go:
How to Connect with would-be supporters, sponsors and benefactors:  There are many people who can ONLY be reached through the Online World.  This is because it's the best way they connect and where they spend most of their time.
If you want someone to sponsor your show, or buy your paintings, or buy into your ideas, find out how they connect in the Online World.
Example:  I wanted to ask Ford to sponsor a TV Show that I'm producing (it goes on air Jan 2011).  I got the name of the guy I should approach.  I found his blog and in it he has a section called "How to Pitch Me" and it's all about reaching him in the Online World.  A phone call wouldn't work on this guy.
Message here:  Get familiar with the Online World – there are many opportunities there that don't exist in the Real World!  Get with it or miss out.
2.)  SOCIAL MEDIA:  THERE ARE RULES OF ENGAGEMENT!
Social media includes Facebook, Blogging, Twitter, Linkedin, all those applications that connect you to other people.
Social Media is one big, fat, crowded nightclub.  You'll find all types there:
The creepy guy in the corner (stalker)
Pissed off crew-cut dude with the bad attitude who hates everyone (troll)
The wallflower; and
The ego maniac who says "read my tweets" but doesn't read yours.
And then there's everyone else; my people:  The ones who want to connect, share ideas, spread information and do nice things for their virtual friends.  These are the doers, the movers and shakers and the most famous and successful.  There's a reason they made it as far as they did.   They are polite, sharing, thoughtful, and appreciative.
Don't be the creepy guy in the corner, or the jerk starting a fight.  You'll be kicked out of the virtual nightclub and nobody will go home with you.
3.)  CONTENT IS KING:  A very awesome Canadian guy named Scott Stratten gave the Keynote address at BWE10.  He stressed that you SHOULD NOT blog on a schedule, but instead, BLOG GREAT CONTENT!   He wrote a great post called Frequently Futile on this topic.  (Thank you Scott, I got tired of writing on a schedule!)  Can I just say that Scott Stratten is the most engaging speaker I've ever heard?  OMG!  Love this guy!
Scott also said that you should make it easy for people to leave comments on your blog.
It's all about conversation, and if you put a muzzle on your readers, it's a one-way conversation.
FOR THE LOVE OF GOD:  IF YOU HAVE A BLOG – MAKE IT EZ FOR ME TO COMMENT.  Add a plug-in that lets anyone comment without having to sign up for DISQUS or GOOGLE or BLOGGER or anything else that I don't want to sign up with.  Do this TODAY!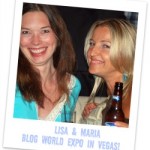 4.)  RELATIONSHIPS RULE:  In the blogging and the Online World, Relationships Rule.  Just like in the Real World, now that I think about it.
Use your Blog and Social Media to connect with others and build relationships.  What does that mean, exactly?  It looks like this:
Retweet something someone else tweeted that you either liked or think that your people will like.  Share a link to a blog post in your Facebook page.
Place links in your blog posts to like-minded bloggers who write content that you like.
Share, like your mother taught you when you were little
Appreciate and remember to thank people who share with you.  Yes, your mom told you that, too.
Someone has something you need, and you've got something they want.  You trade it, only in a polite manner and without expecting anything back.  (When you don't expect it, it usually comes back anyway.)
My good friends, the dynamo duo Darin and Lisa McClure, have helped tremendously with getting my blogging and social media up to speed.  (They're the reason I went to Blog World!)  Lucky for me, their kid goes to my kids' school, so Darin's always "schooling" me on the newest thing online.  Darin and Lisa specialize in all things blogging and social media. For help with your stuff, Check 'em out at Ready to Go Information Technologies.
5.) THE INTERNET IS THE MOST SPIRITUAL TOOL EVER INVENTED:
This is a loving, caring world we live in.  The internet has allowed us to help more people, share more ideas and give more assistance than ever before.
The internet is the most spiritual tool ever known to man. It's enabled people to connect on a level you can't reach in the Real World.  It's given us the ability to get to know people intimately that live thousands of miles away from us.  It's a beautiful form of freedom and expression and connectivity.
If we all treat each other with love and kindness, we can eradicate the negative.  The internet is a perfect tool for that!
SHOULD YOU START A BLOG? If you don't have a blog right now, consider starting one.  If you don't know how, call someone that can help.  Here's a couple of  resources:  Darin & Lisa of Ready to Go Information Technologies or my good friend Debbie who specializes in low-cost, quality website design.  There's also ready-to-go websites for artists you can find through a Google search (although they have ongoing monthly fees).
Why artists should have a blog: Every day I look at artists' websites.  The first thing I look at is their artwork.  The second thing I look for is the little tab that says "blog".  I click on it and I learn about the inner workings of that artists' mind, their methods and what their pet peeves are.  And usually I'll leave a comment (as long as it's easy to leave one.  Refer to #3)
If there is no blog, I'm disappointed.  There's no way to connect easily.  Sending an email feels awkward, since I live in real time in the Online World most of the day.
IF YOU HAVE A BLOG AND WANT TO IMPROVE IT: I have two affiliate resources for you, both of which I stand behind 100% :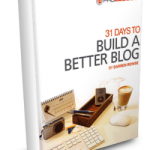 31 Days to Build a Better Blog:  I bought this over a year ago and I still refer back to it regularly.  It's simply the best e-book I have ever read on blogging.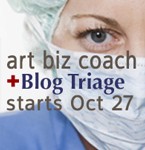 Blog Triage Course: An online course by art business guru Alyson Stanfield.  I haven't taken this particular class yet, but I've taken other classes of hers, and I've read her book.  She's a wealth of knowledge!  (Sign up for Alyson's free Art Marketing Action Newsletter.  It's a terrific resource.)
As for my own blog:  I've been working on a three e-book series called LIVE BY THE PAINTBRUSH where I tell artists how to make money NOW.  I give real life stuff that you can implement that will put money in your pocket using your talent as an artist.  If you want to be notified when it comes out, please sign up for my e-mail list on the side bar of this blog.
I also just finished an e-book titled LIVING THE DREAM – Break Free of the Status Quo and Create your Dream Life.  This will be a free book that I send to every person who signs up for my newsletter.  It will be available in a couple weeks.
Blog World Expo was a lot of fun and I learned many new things.  Maybe next year I'll see you there?!
Maria xxoo
Photo Credit:  Scott Stratten's came from his website.  I didn't even ask, because I know he's cool and won't mind.  The photo of me and Lisa at BWE10 is by my "Chilean Miner" Darin R. McClure.  He's cool, too.
.