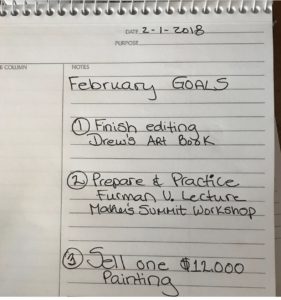 I hate to admit this, but….
I'm not the most efficient person.  It often takes me three times as long to reach a goal, compared to others.
I used to write long lists of 20 things I planned to accomplish each month.  There are so many things I want to do!
But then I would get confused by having too many goals and that made me less productive.
Finally, I figured out a way to be more efficient so that I can get my BIG goals accomplished each month.
On the first day of each month, I decide what the top three most important things are that I need to accomplish.  I write them down and tape them to my wall next to my desk where I work.
For February, my goals are:
1 – Finish editing my next book
2 – Prepare for 2 upcoming speaking events
3 – Sell ONE $12,000 Painting!
When I find myself getting distracted (and boy, do I get distracted easily), I look at my simple list of goals and remind myself of what I need to be doing.
And here's the magic ingredient to making sure that my goals are accomplished: 
Every morning, I am committed to only work on one of those goals for the first 3 hours of the day.
Working on my goals happens BEFORE ANYTHING ELSE every single day.
Then, the rest of the day I'll do all the other stuff that has to be done, like run errands, bookkeeping, open mail, etc.
Focusing on the three most important things FIRST each day gets me closer to accomplishing the big stuff, the stuff that matters.
What are are your TOP 3 GOALS THIS MONTH?  Please leave a comment and share!
IF YOU WANT A REMINDER to set your three most important goals every month, make sure you are signed up for my email list.  I'll send you a reminder on the first of each month, to help you stay on track.  SIGN UP HERE.
Here's to a very prosperous month for us all!
Maria  xxoo
Brophy Art Gallery & Design Studio
San Clemente, CA 92672