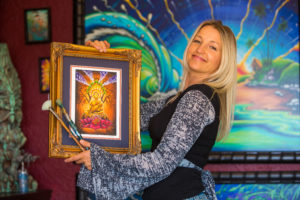 Artist Linda Ursin brought up a recurring problem that many artists have when it comes to selling their art.  She wrote:
"Many people say they love my art but I only sell a few pieces a year"
I can relate.
For many years, we would have people walk into Drew's art studio, hang out for an hour, proclaim to be his biggest fan and then leave without buying anything!
It would frustrate me to no end.  I started feeling bitter about it, complaining to Drew that it wasn't fair that people would walk in and take up so much of our working time only to leave empty handed.
One day, a man come into our studio and talked about how much he loved Drew's art.  He looked at it all of the pieces on the wall, admiring them.  He got Drew to stop working on a project and talked to him for over an hour, asking question after question.  Then, he left without buying.
Perplexed and frustrated at all the time we spent with him that resulted in zero sales, I decided to follow him into the parking lot and ask him why.  I asked:
"If you love Drew's art so much, why did you leave without buying a piece for yourself?"
What he told me next just blew me away.  He said "I didn't know any of it was for sale."
I was astounded by this because everything in the studio is for sale.  We have big pieces, we have little pieces, we have art prints and lower priced items.  It's all for sale!
I walked back into the studio, feeling indignant, sarcastically complaining "No, we don't sell anything, we just like to pay high rent and wait for people to come in and take up all of our time!"
But, then I had to grow up and ask myself what it was that I created that made this man (and many others) think that nothing in the studio was for sale.
Drew and I took the time to look at the studio with fresh eyes.  If we were just walking into it for the first time, would it be clear to us that everything is for sale?
And the answer was no.  We didn't have prices on the walls and the art prints weren't displayed properly.  The rooms in the studio looked more like a working studio, not a gallery retail store.
We decided to change everything to make the studio look more like a gallery/retail space.  We moved furniture around, assigned two rooms as "retail" rooms, added price labels and bought a nice rolling art print rack.
Now, it is very clear that the art is for sale.  And since we made these changes, when people walk in, they often buy.
WHEN PEOPLE DON'T BUY, even after they express great love for your art, ask them why.  They may give you feedback that will help you greatly.
Ask them this:   "If you love it, why haven't you bought a piece for yourself yet?"
Then wait quietly and patiently and listen to their answer.  It may be incredibly insightful and will help you to sell more art in the future.
Have you had a problem with this in the past?  And are you willing to ask your potential clients why they haven't bought from you?
Please, in the comments, share your experiences!