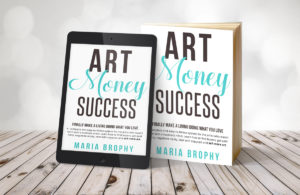 I'd like to announce that my new book, ART, MONEY & SUCCESS is now available on Amazon!
Please, hop on over to Amazon and order yourself a copy now!  Next month the price will increase quite a bit, so get your copy now.
While I personally prefer printed books (because I like to write in them, fold the pages and feel it in my hand), I know a lot of you love your Kindles.  So you can order it on Kindle, too.
The book is designed to be a working guidebook, almost as though I'm right by your side, coaching you.
I created it in a way so that you will get immediate results in art sales, business connections and a shift in your prosperity mindset.
If you do order yourself a copy, please do me a big favor and leave a nice review!  I will be forever appreciative.
It is my goal to become an Amazon bestselling author in my category, and to do that, I need a lot of reviews and book sales.
Here's the book's details printed on book back cover:
FINALLY MAKE A LIVING DOING WHAT YOU LOVE
Why is it that some artists are wildly successful, while others just barely squeak by? It may seem like an unfathomable mystery, how some are earning six figures while other, more talented artists, are struggling.
Maria Brophy has dedicated 20 years of her life to researching the specific strategies that successful artists follow. After applying these strategies to her husband Drew Brophy's career, Maria grew his art sales to multiple six-figures yearly.
In ART MONEY SUCCESS, Maria tells personal stories of her own business deals, successes and failures, while sharing non-conventional wisdom that will explode your art sales. With the exercises and worksheets included, you can apply the insights to your own business for immediate results. The tools inside will help you:
• Connect with your right buyers
• Increase your $$$ income today
• Sell art easily and negotiate nicely
• License your art and get paid multiple times for one artwork
• Implement powerful money and business practices
• Trust your own creative intuition
If you are interested in generating more money and
success from your art, then this book is for you!
"A lot of people tell me that I should sell my work, but Maria Brophy is the first person who has been able to tell me how, in a viable way." –Joe Mahoney
"Hands-down the most practical business guide for artists I've ever read. The strategies and scripts inside will help you reach more buyers and easily sell your art for the price it deserves." –Derek Murphy @creativindie