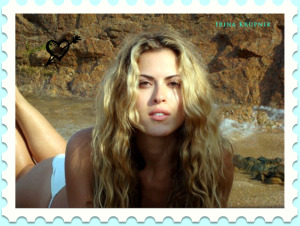 Sometimes being a control freak is not so bad.  Take, for example, when protecting your artwork and your image.  Never sign your rights away, unless you don't care about your image. (Exceptions at bottom of post.)
WHAT WE CAN LEARN FROM A BIKINI MODEL ABOUT ART AND COPYRIGHTS:
If only the beautiful former model, Irina Krupnik, had known how important it was to protect her pretty image.  It might have avoided humiliation and the need to file a $10 million dollar defamation lawsuit against NBC Universal.  But, oh, the perils of innocent youth!
You see, Irina's not happy that a photo of her in a bikini has been used as a "randy" prop in a film called Couples Retreat.  And by "randy" I mean that her skin-baring image was made love to by a middle aged overweight character in the film.
I'll be surprised if Irina wins this lawsuit, because she signed her rights away to a stock photo agency years ago.  Once your rights are signed away, the new owner can do anything with your image. They own it.   They can choose to sell it to someone else and if they wanted to, hell, they could even paint a mustache on Irina's pretty face and use it to sell hemorrhoid cream to transvestites.  It's theirs now, not hers.
Irina complains that she never would have allowed the sexy photo of herself to be transformed from swimwear to "soft porn."  But it doesn't matter what Irina wants, because she has no standing.  She signed her rights away. And now her image is tarnished.  She will forever be remembered as the girl who was master–bait in a movie that's ironically becoming more popular because of her lawsuit.
What does a model in a bikini being used for porn have to do with artwork? It proves my point that once you sell your rights away, you no longer have rights.  That's what selling, granting or giving rights away means.  You transfer ownership over to someone else. And they can do anything they want with it.
I don't blame her for being upset.  I would be, too.  But she signed that  piece of paper, and in doing so she gave permission.  A hard lesson learned.  Perhaps models should start adding to their release documents a statement that specifies that porn, soft porn and anything related is off limits.  But I doubt any photo agency would buy on those terms – there are a million other models who would agree to sign it all away.
Recently I was interviewed on fire-bowl artist John T. Unger's fabulous Art Heroes Radio Show.  (You can listen to it now!)  The topic was Licensing and John asked me what artists could do to get their start in Art Licensing.
I said that one of the most important things an artist should do is to make sure they own and keep all of their copyrights. This doesn't mean you have to file your art copyright through http://www.copyright.gov (although you should) what it means is that you should never sign your copyrights away to anyone else.
The moment you create an artwork or photograph, you are the owner of the copyright (unless you create it while employed by someone.)  That ownership doesn't change hands unless you sign something that says you are transferring rights to someone else.
It's so important to keep control over what happens to your art and images that I will continue to nag over and over again until finally, artists will drop in exhaustion and get what I'm saying:
Having complete ownership of your copyrights and your artwork is what will enable you to control how your art (and YOU) is presented to the world.
If you sign over your copyrights, the new owner can take it and bastardize it.  If you have a recognizable style, this will hurt you.  This will hurt your career.  This will hurt your reputation.
WHAT CAN GO WRONG? Come now, you say.  I'm being too dramatic.  What's the harm in selling the rights to one little painting? You aren't going to miss it.  It can't make a difference.
I'll explain one of a million things that can go wrong, just like Irina and her sexy bikini photo:
Let's say you have a very distinct art style, like Keith Haring does.  When someone sees your art, they know it's yours before they even see your signature.  You have a lot of fans who love you.  You have taken great pride in keeping your artwork pure and not "selling out" with it.  Your fans appreciate that.
Then you were commissioned to create a painting for a client to use in an advertising campaign.  It was a respectable one for a cool product like Absolute Vodka.   You were excited!  And in your excitement, you signed a "work for hire" agreement, which says that you agree to give all rights to the image to the company.  What could go wrong?
Years go by, and you are suddenly getting hate mail from some of your fans.  They are angry that you are selling $3.00 cheaply made t-shirts at Wal-Mart.  They are incensed.  You're confused.  You find out that the company you signed your rights away to earlier then sold the rights to a trinket manufacturer in China that makes cheap tees and sells in Wal-Marts all over the world.
Your image has now been tarnished and you've lost many fans over it.
This is an extreme example, but very possible.
If you want to be an artist that's remembered for a particular style, and if you want to have control over what happens to your art, and your reputation, never sign your rights away.
Literally and figuratively, protecting your image is crucial if you are going to have any control you're your future success.
It's too late for Irina.  But it's not too late for you to be control freak when it comes to your artwork.  Sometimes being a control freak is a good thing!
Maria xxoo
*Exception to the "never sign your rights away" rule:  Illustrators will have to sign rights over to their clients if creating logos, or if creating artwork for movie posters or images that are trademarked (like Sesame Street Characters, Jimmy Hendrix image, etc.).  But if you are drawing and painting and illustrating in your own style, with your own signature, and you want your name and style to be known, keep your copyrights.
UPDATE TO THIS ARTICLE on October 18, 2010:  The result of the model's lawsuit was this:
The Russian beauty sued the film's distributor, NBC Universal, in March, claiming it "published [her] likeness in a vulgar context."
But Manhattan Supreme Court Judge O. Peter Sherwood ruled that Krupnik signed away her rights to the photo at the time of the shoot and knew full well that it could be resold for commercial purposes.
You can read more about it in the New York Daily News.   To quote the tweet of my Entertainment Attorney Friend, Gordon Firemark, "Irina Krupnik lost… I guess pretty girls don't ALWAYS get their way."
.
.