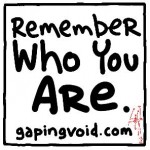 Some of you deeply-creative types may not agree with this, but you are a brand.
All of the artists, writers and musicians who read this blog:  you are your own personal brand.
Your persona is your brand.  Your story is your brand.  And your brand is what attracts your fans to you.
(And don't get hung up on the word "brand" – it's just a word)
Every great brand has a story, from Converse Shoes to Marilyn Monroe to cartoonist Hugh MacLeod.
Sadly, some people don't know who they are.  If you are one of them, you'd better figure it out.  Don't despair, though.  You already have the making of your personal brand because it exists within you organically. You just need to determine what that is by thinking about it, writing it down and defining it.
HOW DO YOU DEFINE WHO YOU ARE AND WHAT YOU STAND FOR?
Tell your story.
Describe who you are in a few descriptive words.
Use your story and your descriptive words consistently in everything you do from marketing to interviews to what you print on your business cards.
EVERYONE HAS A STORY – EVEN YOU:
And there's a good chance that your story is interesting.  You might not think so, because you've lived it so long.  But others will find it fascinating.
Take for example Henri Junttila.  Living in Málaga, Spain, the young Swede has never worked a real job in his life.  Instead, he's made loads of money as a professional poker player.  Then he went on to nurture his successful blog called The Wake Up Cloud and is now a consultant, helping people to live their dreams.  His story inspires others to follow his path.
My cousin Anne, who has been a stay at home mom most of the past 20 years, is a very talented oil painter in Rumson, New Jersey.  She loves to go fox hunting on highly-bred horses and she paints what she experiences.  Her story inspires people to buy her paintings.
You have a story and you have meaning to your life. Those two elements reflect who you are and what your personal brand is based upon.
WITHOUT A STORY, YOUR BRAND WILL DIE:
There is a dying brand of clothing in the surf industry called MADA.  It is a company that, in my opinion, was created only to make money but clearly has no definition or meaning.  Despite the lack of soul, MADA was always getting a lot of press in surf magazines (which surprised the hell out of me).  They grew strong until the recent economic collapse.
The reason brands die is this:  They lack substance.
Without a story (a true one) and no clear definition of who you are or what you are about, you will never hook real, loyal fans.
WHAT'S IN A DESCRIPTIVE WORD?  EVEN A PLAYBOY BUNNY GETS POWER FROM IT:
My first boss at my first job was a former Playboy Club Bunny named Joyce Kennedy.  She was beautiful, smart and witty.  I wanted to be just like her.
When she was 20, she applied for the elite status of a club bunny at the swanky, upscale Playboy Club back in the 70's.  Club bunnies were highly paid cocktail servers who catered to wealthy, famous patrons.   To be a Playboy Club Bunny you had to have it all; smarts, beauty, ability and charisma.
There were 50 girls applying for one position.   What landed her that bunny costume was the answer to her last question during the rigorous interview process:
"If you can choose one word to describe yourself, Miss Kennedy, what would that be?"
"Vivacious!" She said, exuberantly.  She got the job.
WHO ARE YOU IN A FEW WORDS?
My best girlfriend, the beautiful Bridget Flaska, is a successful Realtor in Encinitas, California.  She operates with upmost integrity and has set high standards for herself.  The top of her business card reads: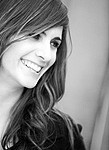 INTEGRITY & EXCELLENCE
In two words, you know what her personal brand is.  When you work with Bridget, you'll benefit from her integrity and you'll experience her excellence.
Yesterday I got to thinking about the power of describing yourself in a few words, when I was asked to send a biography about my husband, Drew, to Converse.  They are writing about him on their super-cool blog and needed his background.
After attaching his biography, I felt the need to give them a short synopsis of what Drew is about, so that their story would focus in on the most important things about him.  I closed my e-mail to them with:
Really, if you sum Drew Brophy up in 5 words, it's this:
Surf – Family – Travel – Paint – Inspiration
So, now I have to ask you, who are you in 5 words or less?  (Please, tell me in the comments!)
Thanks for reading my blog – Always Grateful, Maria xxoo
(writer – traveler – dreamer – surfer – happy)
(Photo Credit:  The image "Remember who you are" is a Hugh MacLeod cartoon.  Photo of the lovely Miss B came from BridgetFlaska.com)
.