*Please note, this article is referring to copyright filings in the United States.  The laws vary from country to country.  Please read though the  comments, as many of my readers have shared their knowledge of copyright issues in other countries.  
One of the artists I recently consulted has a big problem:
A major clothing company has stolen the image of one of his paintings and printed it on their products and it's been sold in major department stores.
This is highly unusual, but it happens.  So of course my first question to him was:
"Did you file the copyrights on your art?"
And no, he didn't.  So now, it's hardly worth going after the big bad company, because even if he wins, he loses.
Here's why:  without a filed copyright, even if you win damages for the infringement of your art, the court will not award attorney's fees, which can sometimes cost about the same as a small beach house in Maui.
So, here's my yearly nag for you to file your copyrights.
Get thee, today, to http://www.Copyright.gov and get yourself an account (that part is free).
I'm not going to sugar-coat it; the copyright office in the U.S. has made it a tad confusing.  But don't let that deter you.  After you file a couple of these, you'll get used to it and it will be smooth sailing.
Check out their website and read through the "frequently asked questions".  The website actually has some great information and most if it is written for the average, non-attorney person to understand.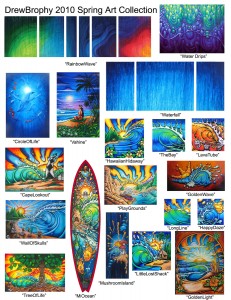 HOW TO FILE COPYRIGHT FOR MULTIPLE IMAGES:
(NOTE:  There are a few corrections to this post, made on 2-12-2014, as I have been corrected and educated by my readers on a few details that needed fixing!)
A copyright registration costs $35.00.  The good news is, you can group multiple pieces of art on one registration, as long as they were created in the same year and they were all unpublished.  (Published works can only be registered in a group if every piece in that group was created together, at the same time, as a collection.)
In some years my husband Drew creates 50-100 new pieces of art!  To keep it manageable, every six two months we file two groups of art under two different copyright applications.  Here's an example:
The first group registration is for Unpublished Works for the time period.
The second group registration would be for Published Works (works created together at one time as a collection) for the time period.
(Published means that the artwork has been printed, or made for sale in tangible form, or offered for licensing.  The published requirement has always been a little confusing, and so I called the Copyright office and came to understand that Published means that it's been sold or was printed on anything with the intention of selling it.)
For each group we create a sheet showing all the images with captions of the image name underneath each one.  For unpublished works, there is no limit to the number of images when you file in groups.
The only limit is this:  You can only file a group together if they
a – were created in the same year (i.e. 2012) and;
b – were all unpublished
c-OR were all published together as a collection
Yes, it can seem daunting.  But, I promise, once you get in the habit and create this system for yourself, it will be a breeze.
The first time you file a copyright application, it will take awhile, so be prepared to spend an hour or more learning the online system.  But after that it's easy.
KEEPING TRACK OF YOUR COPYRIGHTS:  
The next step, once you start copyrighting all of your work, is to keep track of the art you have filed the copyrights for.
We have a list of every single one of Drew's paintings dating back to the late 1990's.  In that Excel spreadsheet, it states the following:
Painting Name and year created
Size and medium
Name of person who bought it
The date the copyright was filed and the copyright registration number
If the copyright column of the spreadsheet is blank, I know that we need to file the copyright for that.
I hope this article has inspired you to file your copyrights, and to get in the habit of doing it regularly!
Tell me in the comments, do you regularly file your copyrights?  Or are you going to start today?
Maria
PS:  I am speaking at Furman University in Greenville, South Carolina on October 1st; if you are in the area, come see me!  Details here.